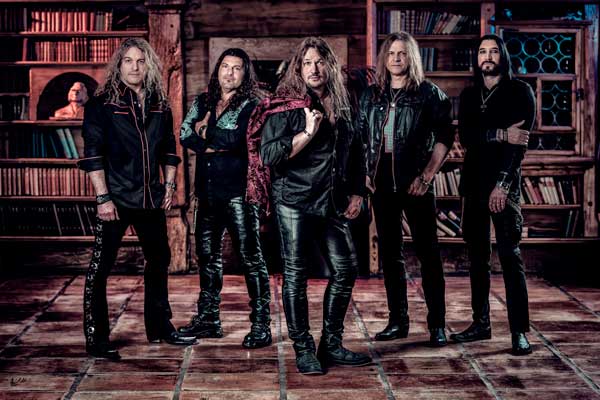 LINE-UP
Steven Mageney – Vocals
Scott Leach – Lead- & Rhythm Guitars, Keyboards
Tony T.C. Castell – Rhythm Guitars
Marcel Sardella – Drums
Cris Stone – Bass
DISCOGRAPHY
1999 In The Beginning
2000 Hard Impact
2002 Virtual Empire
2003 HELLvetia
2005 TimeWalker
2007 Secrets
2013 Dawnbreaker
2015 LifeRider
2016 Déjà-Voodoo
2018 Crystallizer
2019 2020
CAT. NUMBER/FORMAT: MAS DP1069 
RELEASE DATE: 02. August 2019
MUSIC GENRE: Melodic Hard Rock/Metal 
ARTIST'S COUNTRY OF ORIGIN: Switzerland

Das Jubiläums-Doppelalbum von CRYSTAL BALL anlässlich des 20. Geburtstags der Band – erhältlich als CD Digipak sowie digital.
Produziert, aufgenommen und gemastert von Stefan Kaufmann im ROXX Studio in Solingen.
Gemischt von Stefan Kaufmann und Mattes im ROXX Studio in Solingen.
Coverartwork von Thomas Ewerhard.
Gastmusiker auf dem Album: Jodelklub »Echo vom Glaubenberg« bei "HELLvetia", Outro-Gitarrensolo bei "Moondance" und Akustik-Gitarre bei "HELLvetia" & "Déjà-Voodoo" von Stefan Kaufmann (ex-Accept, ex-U.D.O.)

The double album celebrating the 20th anniversary of CRYSTAL BALL – available as CD Digipak as well as digitally.
Produced, recorded and mastered by Stefan Kaufmann at ROXX Studio in Solingen, Germany.
Mixed by Stefan Kaufmann and Mattes at ROXX Studio in Solingen, Germany.
Cover artwork by Thomas Ewerhard.
Guest musicians on the album: Yodel Club »Echo vom Glaubenberg« on "HELLvetia", guitar solo outro on "Moondance" and acoustic guitar on "HELLvetia" & "Déjà-Voodoo" by Stefan Kaufmann (ex-Accept, ex-U.D.O.), guest vocals by Noora Louhimo (Battle Beast) on "Eye To Eye".
ALBUM INFOS
Am 2. August 2019 veröffentlichen die gestandenen Hel(l)vetia-Rocker CRYSTAL BALL ihr erstes Best-Of Album mit dem sinnigen Titel "2020": 20 Jahre Crystal Ball, 20 Best-Of Tracks! Und dann auch live auf Tour in (und mit) 2020.
CD 1 enthält 10 der beliebtesten Songs aus der ersten Banddekade, komplett neu eingespielt und neu interpretiert. Perfekt ergänzt auf CD 2 mit 10 melodiösen Metaltracks der aktuellen Schaffensphase der Ausnahmetalente aus der Schweiz, die entweder neu eingespielt, neu arrangiert und/oder mit zusätzlichen Aufnahmen aufgewertet wurden.
Das Doppelalbum "2020" wurde abermals vom diskret agierenden, 6. Studio-Bandmitglied Stefan Kaufmann – legendärer ex-Drummer von Accept und ex-Gitarrist von U.D.O – eingefangen, produziert, und gemastert. Gemischt wurde es von Stefan Kaufmann und Mattes.
Die Songauswahl hatte die Band durch Fanbefragungen und Streaming-Analysen ermittelt.
"2020" ist ein Album sowohl für die Fans der ersten Stunde als auch für CRYSTAL BALL-Neulinge, das in keiner seriösen Plattensammlung fehlen darf!
Denkt daran: Rock 'n' Roll will never die!
ALBUM INFOS
The Hel(l)vetian rockers CRYSTAL BALL are going to release their first ever "Best Of" album entitled "2020" which combines 20 years of CRYSTAL BALL with 20 "Best Of" tracks, thus the album title "2020"! But wait, there's more: The band will also go on tour in 2020 with the album!
CD 1 contains 10 of the most popular songs from the band's first decade, all re-recorded and newly interpreted. They are completed with CD 2 that contains 10 melodic metal tracks from the current decade of the Swiss hard rockers, which were either re-recorded, newly arranged and/or enhanced with additional recordings.
The double album "2020" was once again produced, recorded and mastered by Stefan Kaufmann (ex-drummer of Accept, ex-guitarist of U.D.O.), who's pretty much the 6th studio member of the band. Stefan Kaufmann and Mattes took care of the album's mix.
All songs were chosen based on results of fan-polls as well as streaming analyses.
"2020" is an album for die-hard fans that are around since the band's early days but also for those who have barely heard of the band before. Needless to say that this album should be part of every record collection!
And always remember: Rock 'n' Roll will never die!
Presse-Bilder / Press pictures