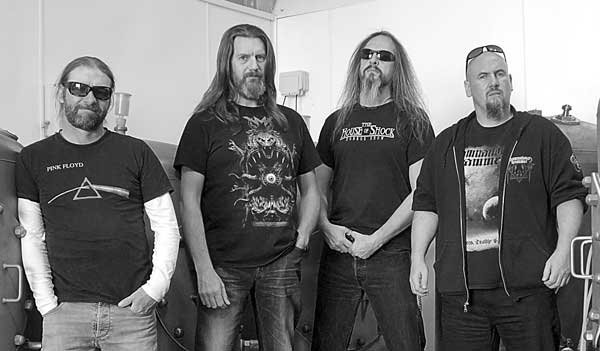 LINE-UP
Tim Preston – Guitar & Vocals
Ady Farnell – Lead Guitar
Jamie Fowler – Bass
Gary Bevan – Drums
DISCOGRAPHY
2013 Disciples of the Hex
2019 Unseen Planets, Deadly Spheres
Unseen Planets, Deadly Spheres
CAT. NUMBER/FORMAT: MAS CD1026
RELEASE DATE: 22. Februar 2019
MUSIC GENRE: Death Metal
ARTIST'S COUNTRY OF ORIGIN: United Kingdom

Das 2. Album von DAMNATION'S HAMMER – erhältlich als CD zum Newcomer Price, Stream & Download.
Produziert, gemischt und gemastert von Mark Mynett in den Mynetaur Studios.
Coverartwork basiert auf der digitalen Zeichnung "Warping" – einer Zusammenarbeit von Chris Cold und Stefan Hürlemann.

The 2nd album from DAMNATION'S HAMMER
available as CD for a Newcomer Price, stream & download.
Produced, mixed and mastered by Mark Mynett at Mynetaur Studios.
Cover artwork based on the digital image "Warping" – a collaboration between Chris Cold and Stefan Hürlemann.
ALBUM INFOS
DAMNATION'S HAMMER wurde mit dem Ziel gegründet, dem Avantgarde Metal der 1980er Tribut zu zollen. Die Vision der Band ist es seit jeher, düsteren und doomigen Metal zu spielen, in dessen Sound surreale Atmosphären eingewoben sind.
Beeinflusst von Bands wie Celtic Frost oder Black Sabbath, ist "Unseen Planets, Deadly Spheres" jedoch weder ein Doom Metal Album, noch ein Death oder Thrash Album – es ist vielmehr eine Kombination all dieser Elemente, ohne jedoch einem der genannten Genre konkret verpflichtet zu sein.
Hinzu kommt, dass die Ambient-Parts des Albums Atmosphären erschaffen, die so schwer sind, wie die Riffs selbst. "Unseen Planets, Deadly Spheres" ist so ätherisch wie unerbittlich.
ALBUM INFO
DAMNATION'S HAMMER was formed as a homage to the avant-garde metal of the 1980's. The vision of the band has always been to create dark, doom-laden metal incorporating surreal atmospherics.
Influenced by Celtic Frost and inspired by Black Sabbath, "Unseen Planets, Deadly Spheres" isn't a doom metal album, nor is it a death or thrash metal album – it's a combination of all these elements yet isn't beholden to one.
Add to the fact that the ambient sections of the album need to create an atmosphere as heavy as the riffs themselves; "Unseen Planets, Deadly Spheres" is ethereal as it is relentless.
Presse-Bilder / Press pictures