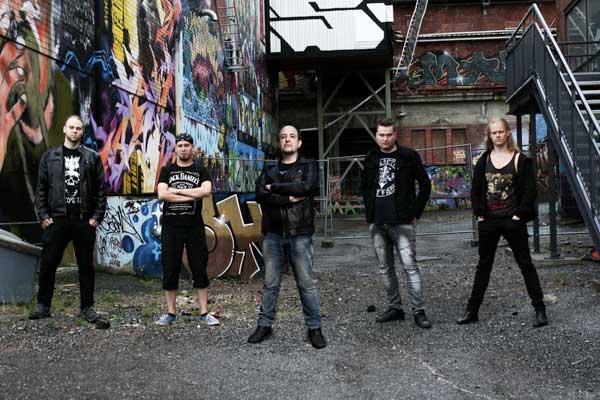 LINE-UP
Tony Meloni – Vocals
Tuomas Hirvonen – Guitars
Aki Kuokkanen – Drums
Lauri Muttilainen – Keyboards
Juhana Heinonen – Bass
DISCOGRAPHY
2017 Loser's Game (Demo)
2018 Frozen Land
CAT. NUMBER/FORMAT: MAS CD1056
RELEASE DATE: 23. November 2018
MUSIC GENRE: Power Metal
ARTIST'S COUNTRY OF ORIGIN: Finland

Das 2. Album von DAMNATION'S HAMMER – erhältlich als CD zum Newcomer Price, Stream & Download.
Produziert, gemischt und gemastert von Mark Mynett in den Mynetaur Studios.
Coverartwork basiert auf der digitalen Zeichnung "Warping" – einer Zusammenarbeit von Chris Cold und Stefan Hürlemann.

The debut album of the Finnish power metal band FROZEN LAND! Album available as Jewel Case CD for a Newcomer Price, stream and download.
Produced by Tuomas Hirvonen at Studio Horseboy.
Mixed by Matias Kupiainen at 5by5 Studios and mastered by Mika Jussila at Finnvox Studios.
Cover artwork by Andrey Vasilchenko.
ALBUM INFOS
Mit ihrem Debütalbum "Frozen Land" wollen FROZEN LAND unvergessliche und einprägsame Melodien zurück in den Power Metal bringen. Um dies zu gewährleisten, hält sich die Band sogar mit Gitarrensoli zurück, so dass die Melodien mehr Raum haben.
Trotzdem muss auf pfeilschnelle Gitarrensoli und bravouröse Vocals nicht verzichtet werden!
FROZEN LAND haben auf ihrem Debüt lediglich einen langsameren Song in petto – einen melancholischen Song, in dem es ums Sterben geht und darum, die gleiche Liebe, wie zu Lebzeiten, im nächsten Leben zu finden. Ansonsten geht es in den Lyrics eher um soziale/sozialkritische Themen.
In Sachen Sound bemüht sich die Band, den Sound der 90er einzufangen: Mächtige Snares und ein voluminöser, nicht zu trockener Sound machen dieses Album aus, denn die Band ist der Meinung, dass viele Songs heutzutage zu trocken klingen und ihr Ziel ist es, den großartigen Power Metal Sound der 90er wieder zurück zu bringen!
Das Debütalbum wurde im Sommer und Winter 2017 aufgenommen. Für den Mix ist Matias Kupiainen (Stratovarius) verantwortlich, das Mastering übernahm Mika Jussila (Stratovarius, Sonata Arctica, Children Of Bodom).
ALBUM INFO
On their self-titled debut album, FROZEN LAND wants to bring back memorable, sing-along melodies to the power metal genre. The band even calmed the solos down so that the melodies would stand out.
Obviously, there are still lightning fast guitar solos and higher than hell vocals – but done with taste.
FROZEN LAND only included one slower song to the album, a heart-breaker that tells a story about dying and finding the same love in the next life. Other than that, the songs are usually socially inclined in terms of lyrics.
As for the sound, they tried to catch 90's sound: big snare, long delays and a larger, not so dry sound – because the band feels, that metal these days is mixed too dry, so their goal is to bring back the big sounds!
The debut album was recorded during the summer and winter of 2017. Mixing was done by Matias Kupiainen (Stratovarius) and mastering by Mika Jussila (Stratovarius, Sonata Arctica, Children Of Bodom).