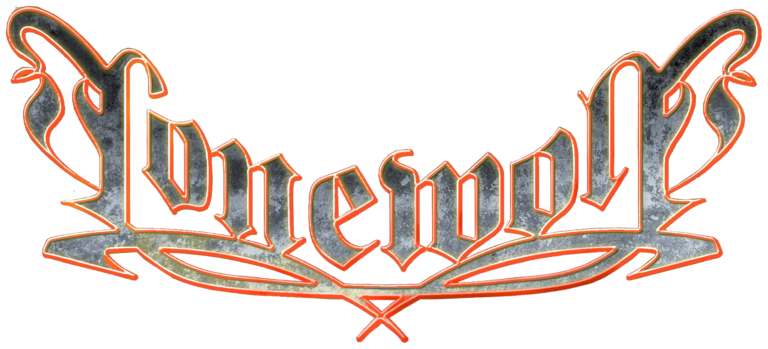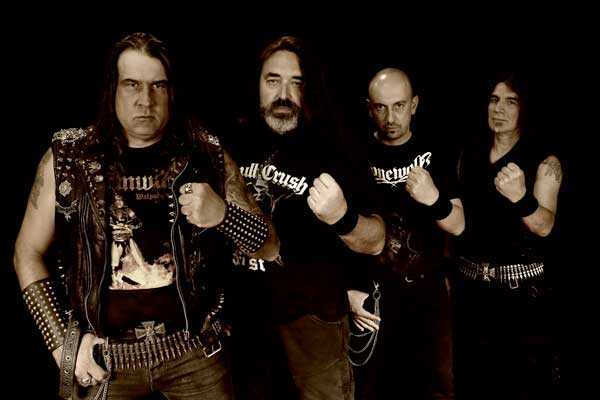 LINE-UP
Jens Börner – Vocals & Guitars
Damien Capolongo – Guitars
Rikki Mannhard – Bass
Bubu Brunner – Drums
DISCOGRAPHY
2002 • March Into The Arena
2003 • Unholy Paradise
2008 • Made In Hell
2009 • The Dark Crusade
2012 • Army Of The Damned
2013 • The Fourth And Final Horseman
2014 • Cult Of Steel
2016 • The Heathen Dawn
2017 • Raised On Metal
2020 • Division Hades
CAT. NUMBER/FORMAT: MAS 2-DP/LP1130          
RELEASE DATE: 25. September 2020
MUSIC GENRE: True Heavy Metal    
ARTIST'S COUNTRY OF ORIGIN: France
GUEST MUSICIANS

Backing vocals by Yves Campion (Nightmare, Archon Angel), Fabrice Emmanuelson (Rising Steel, Whisky Of Blood, Ellipsis), Glenn "Ovulator" Syllath (Grand Bouc Noir, Helegion), Damien "Norde Metalheart".

All keyboards played by Jonathan Dagenais.

Das 10. Album der französischen True Metaller LONEWOLF
erhältlich als CD Digipak mit Bonus Disc, limitierte Vinyl LP sowie digital.
Produziert von Lonewolf im Microclimat Studio.
Aufgenommen von Xavier Sindt in Grenoble, Frankreich.
Gemischt und gemastert von Charles Greywolf im Studio Greywolf in Saarwellingen.
Coverartwork von Péter Sallai / Mortpaintgraphics.

The 10th album of the French true metal outfit LONEWOLF
available as 2-CD Digipak, limited edition Vinyl LP as well as download & stream.
Produced by Lonewolf at Microclimat Studio.
Recorded by Xavier Sindt in Grenoble, France.
Mixed and mastered by Charles Greywolf at Studio Greywolf in Saarwellingen, Germany.
Cover artwork by Péter Sallai / Mortpaintgraphics.
ALBUM INFOS
Freut euch auf einen Mix aus dem Sound der frühen LONEWOLF und dem epischen Sound der "Heathen Dawn".
Ein Wechsel des Leadgitarristen hinterlässt auch beim Songwriting stets Spuren, da jeder Gitarrist einen eigenen Stil hat. So war es auch, als Damien vor einiger Zeit zur Band zurückkehrte – der bereits bei den ersten 3 LONEWOLF Alben mitwirkte – und mit ihm eine gewisse Nostalgie.
Musikalisch bietet das Album das, was man von LONEWOLF erwartet: True Heavy Metal – meist der deutschen Schule!
Einflüsse von Running Wild oder Grave Digger sind deutlich spürbar und werden es immer sein. Zusammen mit LONEWOLFs ganz eigenem Stil, ist "Division Hades" das bis dato stärkste Album der Band geworden.
Getreu dem Motto "never change a running system", haben LONEWOLF erneut mit talentierten Menschen zusammengearbeitet: Der Sound – klar, aber dennoch kraftvoll – wurde wieder von Charles Greywolf (Powerwolf) im Studio Greywolf gemischt und gemastert. Für das Artwork hat die Band abermals mit Péter Sallai (Sabaton, Hammerfall, Korpiklaani) zusammengearbeitet, der wieder fantastische Arbeit abgeliefert hat, die perfekt zum neuen Album passt.
Was die Texte angeht, drehen sich die Songs unter anderem um unsere fehlgeleitete Gesellschaft, Rebellion, aber auch einfach nur um Heavy Metal. Zwei der Songs vom kommenden Album thematisieren den Verlust eines Elternteils und das Leben danach. Ein weiterer Sing ist ein Tribut an Mark "The Shark" Shelton, dessen Tod die Metalszene schockte.
Manilla Road hatten immer großen Einfluss auf LONEWOLF, daher verstand es sich von selbst, Mark einen Song zu widmen.
Da "Division Hades" das mittlerweile 10. Album der Band ist, soll es natürlich etwas Besonderes sein: Das CD Digipak enthält eine Bonus-CD namens "Into The Past We Ride", die alte Songs und Raritäten
enthält, welche erneut von einem der besten LONEWOLF Line-ups eingespielt wurden. Nicht nur eingefleischte Fans werden an den alten Songs im neuen Gewand ihre Freude haben!
ALBUM INFOS
The new album is a mix of the LONEWOLF sound from their early days, paired with the epic sound as known from "Heathen Dawn".
The addition of a new lead guitarist obviously had an impact on the songwriting, as each guitarist has an own style. Damien, the band's new guitarist, already played on the first 3 albums, and brought this "old" feeling and memories back.
Musically, you will get what you expect from a LONEWOLF album: True heavy metal – mostly the German way!
Influences by bands like Running Wild or Grave Digger are (and will always be) noticeable, and combined with LONEWOLF's own identity, "Division Hades" turned out to be the band's strongest album so far.
True to the motto "never change a running system", LONEWOLF continued working with the same talented people: The sound, clear yet very powerful, has again been mixed and mastered by Charles Greywolf
(Powerwolf) at Studio Greywolf in Germany. And the artwork has again been done by the very talented Péter Sallai (Sabaton, Hammerfall, Korpiklaani) in the pure tradition of the latest releases, meaning he delivered a great artwork that fits this strong album perfectly.
Lyric-wise the album deals with our misdirected society, touches the topic of rebellion but is simply about heavy metal as well. There are also 2 songs that deal with the loss of a parent, and the life after loss.
Another one is a tribute to Mark "The Shark" Shelton, whose death shocked the metal scene. Manilla Road always had a huge influence on LONEWOLF, so they had to write something about him.
Last but not least, "Division Hades" marks the band's 10th studio album, and therefore it had to include something special:
The CD Digipak comes with a bonus disc, entitled "Into The Past We Ride", that contains both old and some very rare re-recorded tracks covering the time span between the band's first demo tapes until the second fulllength album. Not only fans will enjoy old stuff with a new sound, played by one of the best line-ups LONEWOLF ever had – that's for sure!
Presse-Bilder / Press pictures