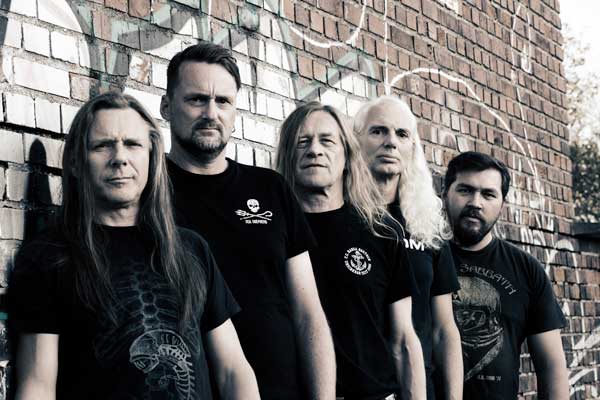 LINE-UP
Oliver Hippauf – Vocals
Alexander Kopp – Guitars
Ralf Klein – Guitars
Hanjo Papst – Bass
Steffen Adolf – Drums
DISCOGRAPHY
2006 Macbeth
2009 Gotteskrieger
2012 Wiedergänger
2015 Imperium
2020 Gedankenwächter
CAT. NUMBER/FORMAT: MAS DP1110 | MAS LP1110 | MAS BX110  
RELEASE DATE: 27. March 2020
MUSIC GENRE: Metal  
ARTIST'S COUNTRY OF ORIGIN: Germany

Das 5. Studioalbum der Thüringer Metaller MACBETH – erhältlich als CD Digipak, limitierte Gatefold Vinyl LP in exklusiven Farbvarianten, limitiertes Box Set (Inhalt: CD Digipak, exklusives T-Shirt [XL], Patch & handsignierte Autogrammkarte) sowie als Download & Stream.
Produziert von Patrick W. Engel im Höllensound Studio in Alach.
Gemischt und gemastert von Patrick W. Engel im Temple Of Disharmony Studio.
Coverartwork von Artem Demura, Booklet von Ralf Klein.
Gastmusiker: Patrick W. Engel – Chor in "Hexenhammer".

The 5th studio album of MACBETH – available as a CD Digipak, limited Gatefold Vinyl LP in exclusive colors, limited box set (CD Digipak, exclusive t-shirt (size XL), patch & hand-signed autograph card) as well as download & stream.
Produced by Patrick W. Engel at Höllensound Studio in Alach, Germany.
Mixed and mastered by Patrick W. Engel at Temple Of Disharmony Studio.
Cover artwork by Artem Demura, booklet by Ralk Klein.
Guest musician: Patrick W. Engel – choir on "Hexenhammer".
ALBUM INFOS
Bei den Aufnahmen zum fünften Album führte wieder Patrick W. Engel die Regie, da er als ehemaliges Bandmitglied genau weiß, wie die Band tickt.
In den Texten geht es um religiösen Fanatismus, Kriegsgräuel, Propaganda und die Folgen für die Menschen.
Musikalisch bewegt man sich auf dem seit dem "Gotteskrieger"-Album eingeschlagenen Weg:
Das Tempo variiert nach wie vor, man ist aber insgesamt etwas schneller unterwegs als auf den Vorgängeralben.
ALBUM INFOS
Macbeth once again teamed up with Patrick W. Engel for the recordings of their 5th album, because being a former band member himself, he knows what makes the band tick.
The lyrics deal with topics such as religious fanatism, wartime atrocities, propaganda and the impact all of this has on mankind.
From a musical point of view, Macbeth followed the path that started with their album "Gotteskrieger":
The songs' pace still varies, but overall "Gedankenwächter" turned out to be a bit faster than previous releases.
Presse-Bilder / Press pictures