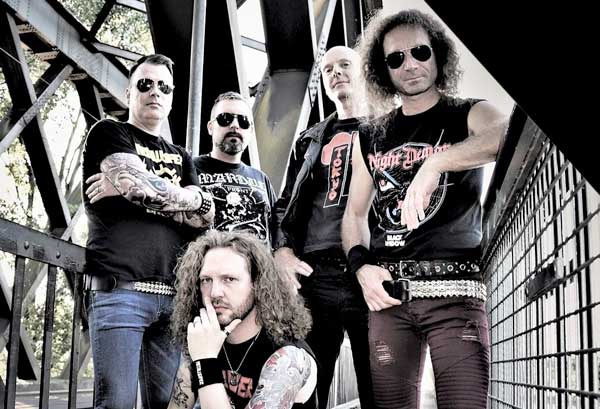 LINE-UP
El Rojo – Vocals
Blumi – Lead Guitars
T.P. – Rhythm Guitar
Cliff – Bass Guitar
Havoc – Drums
DISCOGRAPHY
1998 Metal Inquisitor (Demo)
1999 Seven Inches For The Second Attack (Single)
2002 The Apparition
2005 Doomsday For The Heretic
2007 Doomsday At The H.O.A. (Live Album)
2010 Unconditional Absolution
2014 Ultima Ratio Regis
2019 Panopticon
CAT. NUMBER/FORMAT: MAS DP/LP1046
RELEASE DATE: 18. Januar 2019
MUSIC GENRE: Classic Heavy Metal
ARTIST'S COUNTRY OF ORIGIN: Germany


Das 5. Album von METAL INQUISITOR! Erhältlich als limitiertes CD Digipak, limitierte Vinyl LP inverschiedenen Farben, Stream & Download.
Produziert, aufgenommen und gemischt im Gates Of Dawn Studio, gemastert in den HOFA-Studios.
Coverartwork von Dimitar Nikolov.

METAL INQUISITOR present their 5th studio album! Available as limited CD Digipak, limited vinyl LP in various colours, stream & download.
Produced, recorded and mixed at Gates Of Dawn Studio, mastered at HOFA-Studios.
Cover artwork by Dimitar Nikolov.
ALBUM INFOS
Mit dem fünften Longplayer "Panopticon" beschreiten METAL INQUISITOR weiterhin konsequent traditionelle Wege, ohne jedoch den Zeitgeist aus dem Auge zu verlieren.
Das neue Album wurde modern, aber mit einem Schuss Oldschool im Gates Of Dawn Studio produziert und erhielt anschließend im renommierten HOFA-Studio den endgültigen Feinschliff.
Dabei entstanden unter anderem Hymnen wie "Free Fire Zone" und insbesondere "Beyond Nightmares" – das durch seinen starken Refrain den besonderen und eigenen Stil von METAL INQUISITOR widerspiegelt.
ALBUM INFO
With their 5th album, "Panopticon", METAL INQUISITOR keep on doing it the traditional way, without ignoring the zeitgeist.
The new album turned out to be modern but was produced with a hint of old-school at the Gates Of Dawn Studio. The renowned HOFA-Studios took care of the album's final touches.
You can look forward to hymns like "Free Fire Zone" or "Beyond Nightmares" in particular, which has a killer chorus, that perfectly reflects METAL INQUISITOR's own unique style.