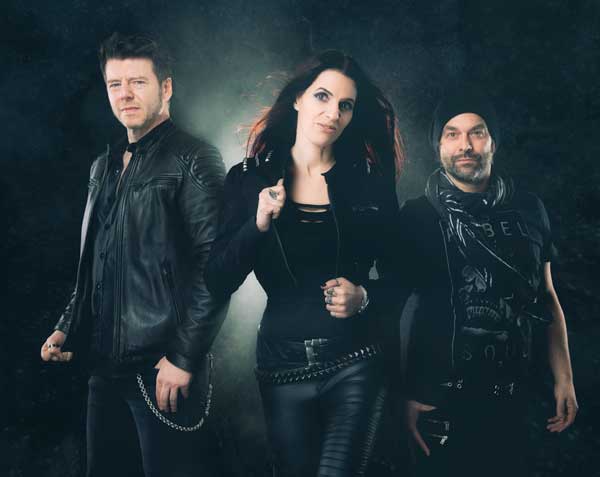 ALBUM LINE-UP
Nicole Hartmann – Vocals
Daniel Maurizi – Guitars
Diego Rapacchietti – Drums
Emmi Lichtenhahn – Bass
Erik Damköhler – Keys
CAT. NUMBER/FORMAT: MAS DP1111  
RELEASE DATE: 03. April 2020
MUSIC GENRE: Epic/Melodic Metal 
ARTIST'S COUNTRY OF ORIGIN: Switzerland

Das 3. Album der Modern Melodic Metal Band MIRACLE FLAIR aus der Schweiz
erhältlich als CD Digipak sowie als Download & Stream mit exklusivem digital-only Bonustrack.
Produziert von Miracle Flair & Tommy Vetterli.
Aufgenommen im MF Recording Studio & New Sound Studio, Schweiz.
Gemischt von Tommy Vetterli im New Sound Studio (Schweiz) und gemastert von Tony Lindgren im Fascination Street Studios (Schweden).
Coverartwork von Stefan Heilemann / Heilemania.

The 3rd album of die Swiss modern melodic metal outfit MIRACLE FLAIR
available as CD Digipak as well as Stream & Download with an exclusive digital-only bonus track.
Produced by Miracle Flair & Tommy Vetterli.
Recorded at MF Recording Studio & New Sound Studio in Switzerland.
Mixed by Tommy Vetterli at New Sound Studio (Switzerland) and mastered by Tony Lindgren at Fascination Street Studios (Sweden).
Cover artwork by Stefan Heilemann / Heilemania.
ALBUM INFOS
Das neue Album "Synchronism" ist eine logische Fortführung dessen, was mit dem Vorgänger "Angels Cast Shadows" begonnen hat – jedoch gibt es von allem etwas mehr: Das neue Album ist etwas härter, etwas progressiver, etwas melodischer, etwas moderner.
Die längeren, komplexeren Songs im fetten Soundgewand sind trotzdem eingängig und melodisch.
Viele der gesammelten Tour- und Lebenserfahrungen finden sich auf dieser neuen Scheibe wieder.
Mit ihrer kraftvollen und klaren Stimme führt Nicole Hartmann durch den kompakten und modernen Sound, während dem die aufwändige Gitarrenarbeit von Daniel Maurizi viel Liebe zum Detail zeigt.
Auch nach vielen Hördurchgängen lässt sich immer wieder das eine oder andere musikalische Highlight entdecken.
ALBUM INFOS
The new album "Synchronism" is a logical continuation of what started with the predecessor "Angels Cast Shadows" – it just has a little bit more of everything: The album is a little harder, a little more progressive, a little more melodic, a little more modern.
Still, the longer and more complex songs with their rich sound are catchy and melodic.
A lot of experience of life and experiences collected on tour influenced the making of this album.
With her powerful and clear voice, Nicole Hartmann leads through the compact and modern sound, whereas the elaborate guitar work by Daniel Maurizi shows great attention to detail.
Even after many listening sessions, you will still discover new musical highlights.
Presse-Bilder / Press pictures