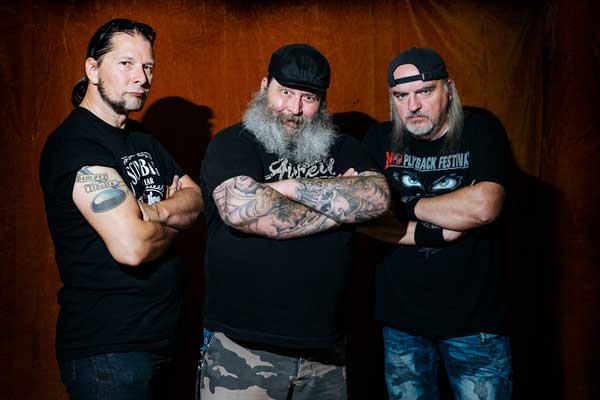 LINE-UP
Claus "Oimel" Larcher – Vocals/Bass
Henny Wolter – Guitars/Vocals
Klaus Sperling – Drums
DISCOGRAPHY
2012 Nitrogods
2014 Rats & Rumours
2016 Mayhem (7" Single)
2017 Roadkill BBQ
2019 Rebel Dayz
CAT. NUMBER/FORMAT: MAS DP1067, MAS BX1067, MAS LP1067
RELEASE DATE: 21. June 2019
MUSIC GENRE: Rock 'n' Roll
ARTIST'S COUNTRY OF ORIGIN: Germany

Das 4. Album von NITROGODS – erhältlich als CD Digipak, limitierte Vinyl LP in verschiedenen Farben (200 x schwarz, 200 x rot, 100 x clear), exklusives und limitiertes Box Set (mit Digipak, Flagge, Patch, handsignierter Autogrammkarte, limitiert auf 500 Stück) sowie digital.
Produziert von Henny Wolter und Claus Larcher im Watching Fields Soundlab.
Gemischt und gemastert von Achim Köhler bei Indiscreet Audio.
Coverartwork von Alessandro "Atzinaghy" Giovagnoli.

The 4th NITROGODS album – available as CD Digipak, limited edition vinyl LP in various colors (200units – black, 200 units – red, 100 units – clear), exclusive and limited edition box-set (incl. CD Digipak, flag, patch, hand-signed autograph card) as well as digitally.
Produced by Henny Wolter and Claus Larcher at Watching Fields Soundlab.
Mixed and mastered by Achim Köhler at Indiscreet Audio.
Cover artwork by Alessandro "Atzinaghy" Giovagnoli.
ALBUM INFOS
Anschnallen bitte, NITROGODS sind mit einem neuen Album zurück, das – wie bei der Band üblich – wieder in Eigenregie geschrieben, aufgenommen und produziert wurde.
Mit der neuen Scheibe, die den Namen "Rebel Dayz" trägt, ist das Trio so nah an seinem Livesound, wie noch nie zuvor – worauf die Band mächtig stolz ist!
In Bezug auf die Texte sind NITROGODS dieses Mal ein wenig mehr auf das Zwischenmenschliche eingegangen, aber keine Bange, die Bierseligkeit haben sie trotzdem nicht aus den Augen verloren -und der Mix von Achim Köhler sorgt dafür, dass das Album auch ordentlich Druck hat!
Man darf auf dieses Brett gespannt sein!
Im Oktober/November geht es dann noch unter dem Banner "Rebel Dayz – Tour 2019" zusammen mit ihren Labelkollegen Psychopunch und Maxxwell auf Headlinertour in Deutschland, Österreich und der Schweiz – lasst euch das nicht entgehen!
ALBUM INFOS
Fasten your seatbelts, NITROGODS are back with a new album, which was – as usual – written, recorded and produced by the band itself.
With the new record, entitled "Rebel Dayz", NITROGODS are as close to their live sound as never before! Needless to say, that the trio is very proud of having achieved this!
In terms of the lyrics, NITROGODS payed a little bit more attention to interpersonal topics, but don't you worry, there is still plenty of beery content! The mixing duties were handled by Achim Köhler who made sure that the album comes with a straightforward sound!
Get ready for a massive dose of raw and dirty rock 'n' roll!
NITROGODS are also going on a headliner tour – dubbed "Rebel Dayz – Tour 2019" – through Germany, Austria and Switzerland this October/November, along with their label mates Psychopunch as well as Maxxwell – don't miss it!
Presse-Bilder / Press pictures