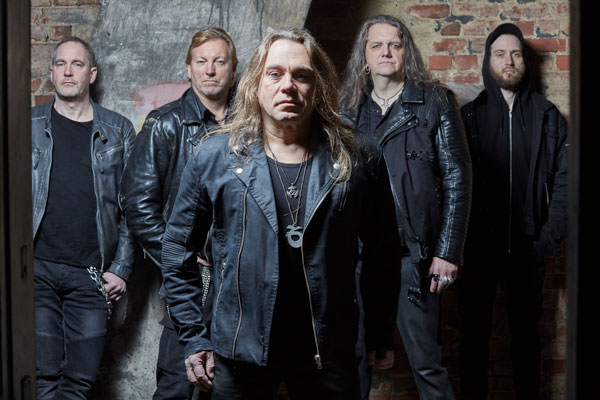 LINE-UP
Andreas Babuschkin – Vocals
Jan Bertram – Guitars / Backing Vocals
Günny Kruse – Guitars / Backing Vocals
Jan Bünning – Bass / Backing Vocals
Sören Teckenburg – Drums / Backing Vocals
DISCOGRAPHY
1994 Into The Black EP
1995 World Of Sin
1998 The Final Command
1999 Chalice Of Steel
2001 Steelbound
2002 Law Of The Blade
2003 The Dark Legacy
2005 Revenge
2007 Forgotten Prophecies
2008 Screenslaves
2012 Force Of Destruction
2016 Hell Beyond Hell
2019 Controlled Demolition
CAT. NUMBER/FORMAT: MAS DP1057  |  MAS LP1057
RELEASE DATE: 26. April 2019
MUSIC GENRE: Classic Heavy Metal / Speed Metal / Heavy Speed Metal
ARTIST'S COUNTRY OF ORIGIN: Germany

Das 12. Album von PARAGON – erhältlich als CD Digipak, limitierte Vinyl LP, Stream & Download.
Produziert, gemischt und gemastert von Piet Sielck im powerhouse Studio / Hamburg.
Das Schlagzeug wurde von Jörg Uken im soundlodge Studio / Rauderfehn aufgenommen.
Coverartwork von Aldo V. Requena

The 12th PARAGON album – available as CD Digipak, limited vinyl LP, stream & download.
Produced, mixed and mastered by Piet Sielck at powerhouse Studio / Hamburg, Germany.
Drums recorded by Jörg Uken at soundlodge Studio / Rauderfehn, Germany.
Cover artwork by Aldo V. Requena.
ALBUM INFOS
In Zeiten, in denen viele Metal-Bands immer weicher werden, ihren Sound mit Keyboards verwässern, das Songwriting scheinbar nur nach Schema F erfolgt oder versucht wird, durchschnittliche Musik durch ein albernes Image zu kaschieren, wollen PARAGON mit "Controlled Demolition" ein Zeichen setzen!
Ein Zeichen, dass sie auch nach fast 30 Jahren nicht zum alten Eisen gehören und sie ihre Musik immer noch mit so viel Leidenschaft und Spaß schreiben, wie in den Anfangstagen von PARAGON.
"Controlled Demolition" ist von Anfang bis Ende ein saftiger Tritt in den Arsch der 08/15 Happy Metaller.
In ihren klassischen Heavy Metal Sound haben PARAGON diesmal noch mehr Speed und sogar Thrash Elemente eingebunden als früher – allerdings immer mit einem ordentlichen Schuss Melodien.
Auch haben sie versucht, den Sound direkter als bei den vorherigen Produktionen klingen zu lassen.
Produzent Piet Sielck hat dabei ganze Arbeit geleistet: So fett und brutal, aber trotzdem organisch und echt klang noch kein PARAGON Album!
Textlich geht es diesmal oft um dystopische Themen, wie dem Wunsch nach ewigem (digitalen) Leben ("Timeless Souls"), dem unaufhaltsamen Ende der Welt ("Blackbell") und dem Problem der Überbevölkerung ("Abattoir").
ALBUM INFOS
In times, when metal bands turn softer, keyboards weaken the heavy sound, songwriting is done according to the book and everyone tries to cover mediocre music with a silly image – PARAGON aim to make a point with their new album "Controlled Demolition"!
They want to prove that their time isn't over yet, even though they're around for more than 30 years now. And they still write their music with the same huge amount of passion and tons of fun as before.
From the first to the very last second, "Controlled Demolition" is a kick in the ass of every ordinary happy metalhead.
PARAGON embedded even more speed and thrash elements into their classic heavy metal sound than before – but it has a lot of melody, too.
They also tried to approach a more direct sound compared to previous productions. And producer Piet Sielck delivered: PARAGON have never sounded so heavy and brutal but also so organic and true before!
In terms of lyrics, they often deal with dystopian themes, like the wish for eternal (digital) life ("Timeless Souls"), the unstoppable destruction of the Earth ("Blackbell") as well as the problem with overpopulation ("Abattoir").
Presse-Bilder / Press pictures