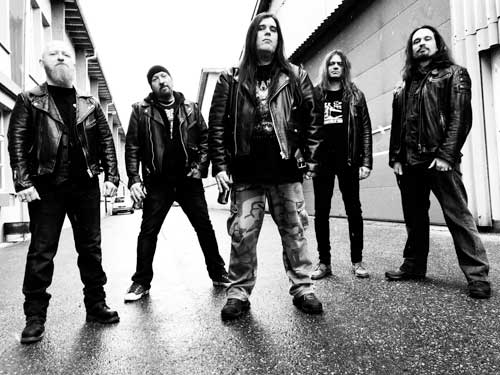 ALBUM LINE-UP
André Grieder – Vocals
V.O. Pulver – Guitars
Chasper Wanner – Guitars
Ralf Winzer Garcia – Bass
Reto Crola – Drums
CAT. NUMBER/FORMAT: MAS DP1134 | MAS LP1134    
RELEASE DATE: 03. July 2020
MUSIC GENRE: Speed/Thrash Metal
ARTIST'S COUNTRY OF ORIGIN: Switzerland

Das 5. Album der Schweizer Speed/Thrash Legenden POLTERGEIST
erhältlich als CD Digipak, limitierte Gatefold Vinyl LP in unterschiedlichen Farben sowie als Download & Stream.
Produziert, gemischt und gemastert von V.O. Pulver im Little Creek Studio.
Coverartwork und Layout von Roberto Toderico.

The 5th album of the Swiss speed/thrash legends POLTERGEIST
available as CD Digipak, limited edition Gatefold Vinyl LP in various colors as well as download & stream.
Produced, mixed and mastered by V.O. Pulver at Little Creek Studio.
Cover artwork and layout by Roberto Toderico.
ALBUM INFOS
Die Schweizer Speed/Thrash Legenden POLTERGEIST melden sich mit einem neuen Album zurück!
Die Songs auf "Feather Of Truth" enthalten einerseits viele charakteristische Arrangements, die POLTERGEIST-Fans erwarten würden, andererseits ist es auch ein ziemlich abwechslungsreiches Album mit verschiedenen Tempi, Harmonien, Melodien und technischen Einflüssen geworden.
Die Texte basieren auf realen Themen, gemischt mit historischen Elementen ("Feather Of Truth" handelt zum Beispiel von der ägyptischen Göttin der Wahrheit, des Gleichgewichts, der Gerechtigkeit und der Moral), die für diese moderne Zeit immer noch eine erhebliche Bedeutung haben.
Durch die kreative Beteiligung aller Bandmitglieder in dieser neuen Besetzung fühlt sich das Album im Vergleich zu den vorherigen Alben tendenziell mehr als Gemeinschaftsleistung an.
Fast alle Lyrics wurden von V.O. geschrieben, mit Ausnahme von "The Culling", dessen Text von V.O. und Ralf geschrieben wurde. Zusätzlich hat Chasper 4 Songs vom neuen Album komponiert.
Auch der Spielstil des neuen Schlagzeugers der Band, Reto Crola, verleiht dem Sound von POLTERGEIST zusätzlich eine neue Nuance.
ALBUM INFOS
Swiss speed/thrash legends POLTERGEIST are back with a new album!
The songs on "Feather Of Truth" carry a lot of signature arrangements that POLTERGEIST fans would expect, but on the other hand it's also quite a diverse album with various speeds, harmonies, melodies and technical influences.
The lyrics are based on real life topics, mixed with historic elements (for example "Feather Of Truth" is about
the Egypt goddess of truth, balance, justice and morality) that still have a significant meaning to these modern times.
The new album feels way more like a band effort compared to previous releases.
Most of the lyrics were written by V.O. Pulver, except for "The Culling", which is a collaboration between V.O. and Ralf. Additionally, Chasper composed 4 songs from the new album.
The band's new drummer Reto Crola's drumming style also brings a new flavor to the sound of POLTERGEIST.
Presse-Bilder / Press pictures