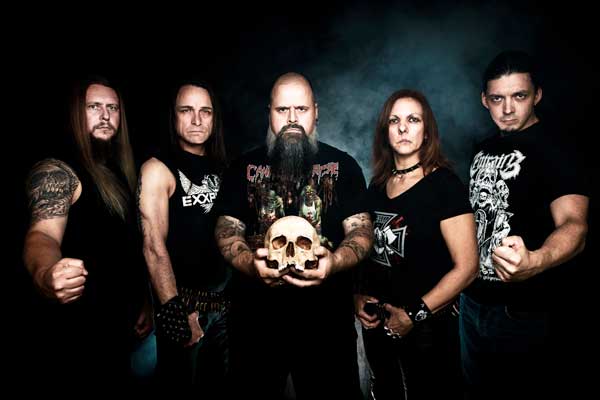 LINE-UP
Jan Edel – Vocals
Alexandra Rutkowski – Guitars
Christian Eichberger – Guitars
F.T. – Bass
Toni Merkel – Drums
DISCOGRAPHY
2009 Buried Alive (EP)
2013 Restored To Life
2015 Column Of Skulls
2020 Repulsive Transgression
CAT. NUMBER/FORMAT: MAS CD1117  
RELEASE DATE: 22. May 2020
MUSIC GENRE: Old School Death Metal
ARTIST'S COUNTRY OF ORIGIN: Germany

Das 3. Album der Death Metaller SABIENDAS – erhältlich auf CD sowie digital als Download und Stream!
Produziert von Tristan Maiwurm in den DNA-Studios in Menden.
Gemischt und gemastert von Toni Merkel.
Coverartwork von Björn Lensig.

The 3rd album of the death metal outfit SABIENDAS – available on CD as well as download and stream!
Produced by Tristan Maiwurm at the DNA-Studios in Menden, Germany.
Mixed and mastered by Toni Merkel.
Cover artwork by Björn Lensig.
ALBUM INFOS
SABIENDAS sind mit ihrem neuen Album "Repulsive Transgression" zurück und präsentieren extremen Death Metal der amerikanischen Schule!
"Repulsive Transgression" ist die logische Weiterentwicklung des Albums "Column Of Skulls" und beinhaltet, wie auch schon der Vorgänger, Einflüsse aller Bandmitglieder. Das Songwriting ist auf der einen Seite eingängiger und abgerundeter geworden, insgesamt aber extremer, als bei den vorherigen Alben.
Bei den Aufnahmen wurde bewusst auf die Verwendung eines Metronoms (Click) verzichtet, um den Live-Charakter der Songs hervorzuheben und zusätzliche natürliche Dynamik zu erzeugen.
Die Texte auf "Repulsive Transgression" beschäftigen sich hauptsächlich mit Verbrechen, Tabubrüchen und Abweisungen, welche von der Gesellschaft im kulturellen Kontext als besonders extrem wahrgenommen werden. Hierzu zählt sexuell motivierter und ritueller Kannibalismus sowie die Verbrechen von Albert Fish und Josef Fritzl. Bezüge zu Klassikern der Literatur, aber auch dem modernen Horrorfilm, sind zusätzlich zu finden.
ALBUM INFOS
SABIENDAS are back with their new album "Repulsive Transgression", and serve music in the vein of extreme US death metal!
"Repulsive Transgression" is the next logical step following the release of "Column Of Skulls", and includes influences from all band members – just like it also happened on previous releases. The results of the songwriting are catchier and more balanced on one hand, but also more extreme on the other hand.
The use of a metronome was deliberately avoided in order to emphasize the live character of the songs and to create additional natural dynamics.
The lyrics on "Repulsive Transgression" mainly deal with crimes, the breaking of taboos and rejections, which are – in a cultural context – perceived as particularly extreme by society.
This includes sexually motivated and ritual cannibalism as well as the crimes of Albert Fish and Josef Fritzl. References to classic literature, but also modern horror movies, can also be found.
Presse-Bilder / Press pictures