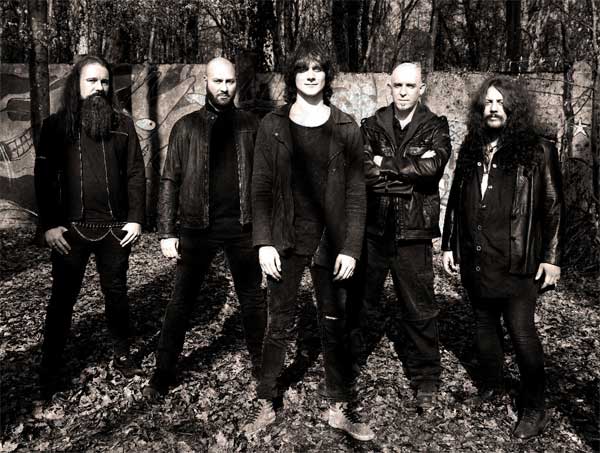 LINE-UP
Nick Holleman – Vocals
Flo Laurin – Guitars
Manuel Seoane – Guitars
Alexander Schulz – Bass
Frederik Ehmke – Drums
DISCOGRAPHY
2010 When Worlds Collide
2014 Shadows
2016 Master Creator
2018 IV
CAT. NUMBER/FORMAT: MAS DP1052  |  MAS LP1052
RELEASE DATE: 23. November 2018
MUSIC GENRE: Power Metal
ARTIST'S COUNTRY OF ORIGIN: Germany

Das 4. Album der Power Metal Band SINBREED und das SINBREED-Debüt des neuen Sängers Nick Holleman. Erhältlich als CD Digipak, limitierte Vinyl LP, Stream & Download.
Produziert Flo Laurin in den Bazement Studios.
Gemischt von Markus Teske & Flo Laurin und gemastert von Markus Teske, beides in den Bazement Studios.
Coverartwork von Alexander Schulz.
Backingvocals von Timmy Rough (The New Roses).
ALBUM INFOS
Auf Album Nummer "IV" zeigen sich SINBREED einmal mehr gereift: Der bandeigene Sound – schnell, hart, eingängig und ohne Schnörkel – wurde beibehalten und um weitere Facetten erweitert. Ebenso wurden die beiden neuen Bandmitglieder Nick Holleman (ex-Vicious Rumors) und Manuel Seoane (Mägo de Oz) von Anfang an in den Schreibprozess des neuen Albums integriert und konnten bereits so einige Akzente setzen.
Auf Platte hört man der Band die Spielfreude, welche sie sich in einer ausgedehnten Europa Tour als Special Guest von Serious Black in 2016 erarbeitet haben, einfach nur an. Blind Guardians Frederik Ehmke gibt hier den Takt an, die Saitenfraktion rund um Mastermind Flo Laurin, Manuel Seoane und Alexander Schulz komplettieren die musikalische Sektion.
Neu-Sänger Nick Holleman beweist auf beeindruckende Art und Weise, welchen Sporen er sich in den letzten Jahren verdient hat und warum er zu den besten seines Fachs gehört. Für die ausgefeilten Chor-Arrangements holte man sich The New Roses Lead-Sänger Timmy Rough ins Studio, wodurch die Queen-artigen Chorpassagen mit ordentlich Dampf zur Geltung kommen.
Produziert wurde das neue SINBREED Album "IV" erneut von Flo Laurin, der zusammen mit Markus Teske (u.a. Produzent von Vanden Plas) dem Album einen modernen, glasklaren aber nie überladenen Sound verpasst hat.

The 4th album the power metal outfit SINBREED and the SINBREED-debut of the new vocalist Nick Holleman. Available as CD Digipak, limited vinyl LP, stream & download.
Produced by Flo Laurin at Bazement Studios.
Mixed by Markus Teske & Flo Laurin and mastered by Markus Teske, both at Bazement Studios.
Cover artwork by Alexander Schulz.
Backing vocals by Timmy Rough (The New Roses).
ALBUM INFO
On album number "IV", SINBREED present themselves even more mature: The band's signature sound – fast, heavy, catchy and without frills – has been kept and upgraded with additional facets. The new band members Nick Holleman (ex-Vicious Rumors) and Manuel Seoane (Mägo de Oz) were involved in the songwriting process from the very beginning and have spiced things up a bit.
You can clearly hear how much fun the band had recording the album. Frederik Ehmke of Blind Guardian sets the tone, the guitar section consisting of mastermind Flo Laurin and Manuel Seoane as well as bassist Alexander Schulz complete the party.
New vocalist Nick Holleman impressively showcases what he has learned in the past years and proves that he is indeed one of the best in his field. The New Roses lead singer Timmy Rough is responsible for the sophisticated choir arrangements, which underline the powerful Queen-esque choirs you can hear on the album.
"IV" was once again produced by Flo Laurin, who – along with Markus Teske (producer of Vanden Plas, among others) – is responsible for the album's modern, crystal-clear and non-overloaded sound.
BAND BIOGRAPHY
Das 10-jährige Bandjubiläum nähert sich und nach fast einem Jahrzehnt präsentieren sich SINBREED runderneuert: Sänger Herbie Langhans (Radiant, Voodoo Circle, Avantasia) wurde durch Nick Holleman ersetzt und folgend auf den Weggang von Marcus Siepen (Blind Guardian) nach dem Album "Shadows", ist der spanische Ausnahmegitarrist Manuel Seoane in die Band eingestiegen.
Nach Einzelshows mit Van Canto und einer Europa-Tour mit Serious Black konzentrieren sich SINBREED nach der Fertigstellung des Albums "IV" für das Jahr 2019 auf Live-Shows, um das neue Line-up und die neuen Songs vorzustellen.
BAND BIOGRAPHY
The band's 10th anniversary is around the corner and after almost a decade, SINBREED are opening a new chapter in the band's history: Long-time vocalist Herbie Langhans (Radiant, Voodoo Circle, Avantasia) has been replaced by Nick Holleman. Marcus Siepen (Blind Guardian) left the band, with Spanish guitarist extraordinaire Manuel Seoane joining the band after the release of the album "Shadows".
Following gigs with Van Canto and an European tour with Serious Black as well as the completion of the new album "IV", SINBREED now focus on getting back on stage to present the new line-up and the new songs live in 2019.
Presse-Bilder / Press pictures