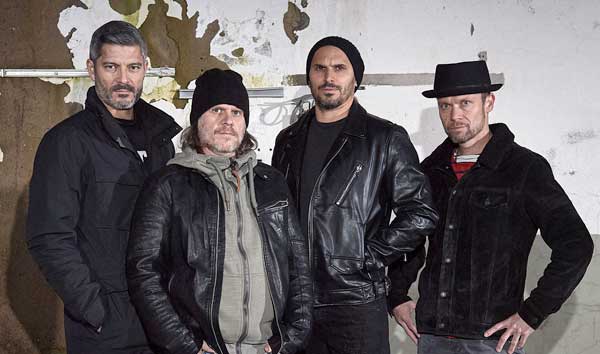 ALBUM LINE-UP
Gianni Pontillo – Vocals
Bruno Spring – Guitars
Andrej Abplanalp – Bass
Mauro "Tschibu" Casciero – Drums
CAT. NUMBER/FORMAT: MAS DP1125    
RELEASE DATE: 22. May 2020
MUSIC GENRE: Hard Rock/Melodic Metal
ARTIST'S COUNTRY OF ORIGIN: Switzerland

Das 6. Album der Schweizer Hard Rock/Heavy Metal Band THE ORDER
erhältlich als CD Digipak sowie als Download & Stream.
Produziert von V.O. Pulver und The Order.
Gemischt und gemastert von V.O. Pulver im Little Creek Studio in Ormalingen, Schweiz.
Coverartwork von Jan Yrlund (Darkgrove Design).
Piano bei "Sometimes" eingespielt von Michael Arrom.

The 6th album of the Swiss hard rock/heavy metal outfit THE ORDER
available as CD Digipak as well as download & stream.
Produced by V.O. Pulver and The Order.
Mixed and mastered by V.O. Pulver at Little Creek Studio in Ormalingen, Switzerland.
Cover artwork by Jan Yrlund (Darkgrove Design).
Piano on "Sometimes" by Michael Arrom.
ALBUM INFOS
Besonders nachdem sich auf den letzten beiden Alben hauptsächlich auf Spaß und Erinnerungen an die Gitarrenhelden ihrer Jugend konzentriert wurde, zeigen sich The Order auf ihrem neuen Album "Supreme Hypocrisy" von einer ernsteren Seite – das Album ist härter, melancholischer und nachdenklicher
ausgefallen.
Auf "Supreme Hypocrisy" reflektieren die Schweizer über ihre wilden Wurzeln und Stärken ihrer Anfangszeit und lassen sich dabei nach wie vor nicht in eine Schublade stecken.
Alles andere wäre scheinheilig!
ALBUM INFOS
Especially after the last two albums focused primarily on fun and memories of the guitar heroes of the youth, The Order are showing a more serious side on their new album "Supreme Hypocrisy" – it's harder, more melancholic, more thoughtful.
On "Supreme Hypocrisy", the Swiss reflect on their wild roots and strengths from the early days and are still not influenced by expectations and attempts to categorize them.
Everything else would be hypocritical!
Presse-Bilder / Press pictures