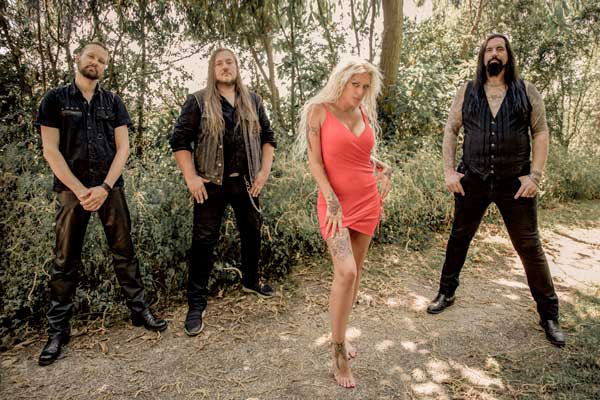 LINE-UP
Helena Iren Michaelsen – Vocals
Jan Örkki Yrlund – Guitars
Gerry Verstreken – Bass
Merijn Mol – Drums
DISCOGRAPHY
2004 • The Ancient Dance Of Qetesh
2007 • Queen Of Light
2011 • Secret Passion
2011 • Let Down (Single)
2013 • Queen Of Passion (Compilation)
2015 • Tears Of Silence
2019 • Flames Of Eternity
2021 • The Last Horizon
CAT. NUMBER/FORMAT: MAS DP1152 
RELEASE DATE: 26. March 2021
MUSIC GENRE: Gothic Metal
ARTIST'S COUNTRY OF ORIGIN: Finland / Norway / Belgium / Netherlands
GUEST MUSICIANS
• Henrik Perelló (Finnish National Opera Orchestra): Violin on "Starlight" and "Where Are You Now"
• John Stam: Guest guitar solo on "Only A Dream"

Das 6. Album der Symphonic/Gothic Metal Band IMPERIA erhältlich als 2-CD Digipak sowie als Download & Stream.
Produziert von Jan Yrlund und Oliver Philipps.
Gemischt und gemastert von Jacob Hansen in den Jacob Hansen Studios.
Coverartwork gestaltet von Jan Yrlund / Darkgrove Design.

The 6th album of the symphonic/gothic metal outfit IMPERIA
available as 2-CD Digipak as well as download & stream.
Produced by Jan Yrlund and Oliver Philipps.
Mixed and mastered by Jacob Hansen at Jacob Hansen Studios.
Cover artwork by Jan Yrlund / Darkgrove Design.
ALBUM INFOS
IMPERIA haben auf ihrem neuen Album, was die epischen Sounds angeht, nochmal eine Schippe draufgelegt!
Auf dem Album treffen viele unterschiedliche Stile aufeinander; von Goth Rock zu Metal, aber auch schöne Balladen und folkige Songs finden den Weg in eure Gehörgänge.
Es ist sogar ein Song auf dem Album, "To Valhalla I Ride", das sich an die Wikinger-Thematik anlehnt und euch in uralte Zeiten zurückversetzt.
Auf "The Last Horizon" feiert IMPERIAs neuer Drummer, der Niederländer Merijn Mol, sein Albumdebüt.
ALBUM INFO
IMPERIA's new album turned out to be the most epic IMPERIA album ever, and therefore it was chosen to be released as a double CD.
The album features lot of different styles; from goth rock to metal songs, but you will also find beautiful ballads and more folkish songs.
There even is a Viking-themed song, "To Valhalla I Ride", which brings you back to the ancient times.
"The Last Horizon" also features IMPERIA's new drummer Merijn Mol, who is hailing from the Netherlands.